Villeneuve-Loubet
Villeneuve Loubet, between Antibes and Nice
The area of Villeneuve Loubet is situated between Antibes and Nice close to Cagnes sur Mer. Villeneuve Loubet possesses some lovely cultural, sportif and natural sites that enable visitors to have a wonderful time during their holiday on the French Riviera. Between Villeneuve village and the sea are some lovely places. Along the seaside, Villeneuve Loubet has a number of leisure sports areas where you can enjoy water skiing, wake-board, Jet Ski, scuba diving, kayak and pedalo rental, try para-sailing or a tow on a banana boat! Water leisure activities are certainly not lacking at Villeneuve Loubet. We found three water sports centres plus a diving club and a yacht club in the area. At the Baie des Anges Marina Port you can rent boats for a half day or full day, even a week. Certain professionals offer sea trips with a skipper either purely for leisure or to learn sailing. The Baie des Anges Marina is a popular place with its restaurants, shops, spa centre and many leisure activities. If you plan to stay there then it is best to reserve your Villeneuve Loubet holiday rental property early. You could also choose a seasonal apartment at Cagnes sur Mer if there are no availabilities at Villeneuve Loubet.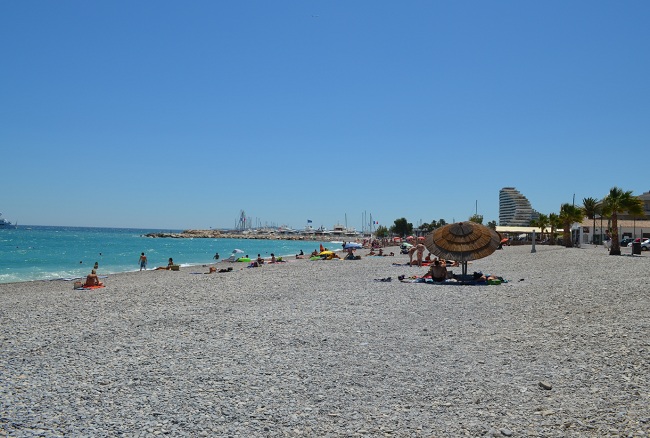 The Heritage of Villeneuve Loubet
Villeneuve Loubet also offers a major cultural heritage that should not be missed during your holiday. The Provencal village and chateau at Lascaris are definitely worth a visit. The Tourism Office at Villeneuve Loubet organises guided visits that include all the essential historical aspects of the village. You can also visit the Escoffier Museum of Culinary Art. The medieval fortress of which the construction dates from the 13th century is a private property but can also be visited.
Two beautiful private properties, Baumettes Chateau, home of the André Malraux Cultural Centre, and Vaugrenier Chateau, display characteristics of the Palladian style. Guided visits are available on site by appointment.

The natural beauty of Villeneuve
The Vaugrenier Department Natural Park has over 100 hectares with a diverse and rich flora and wildlife. There is also a small lake and ornithological observatory. It is a paradise for joggers and ball players as well as a great place for family picnics. It makes a great alternative to the seaside; however the sea is only a few hundred metres from the park too. You can therefore combine a swim in the sea with a nature walk in the park. Another park close to Vaugrenier is the Rives de Loup Department Natural Park which offers long walks next to this small river. This park is also classified as a Natura 2000 site and has a discovery trail and picnic areas.
Leisure at Villeneuve Loubet
If you are on holiday with children at Villeneuve Loubet we recommend you visit some of the numerous leisure parks for those both young… and older! These parks are generally open from February to November. The Canyon Forest Park on the banks of the Loup has track through the trees and workshops such as the 'escalade', Monkey Bridge… The Pitchoun Forest has educational trails with zip lines for children. The Lutins Wood has spectacular trails with toboggans, tree cabins, underground villages… Everything you could wish for is here for an unforgettable day or half day trip.