Gourdon
The hillside village of Gourdon in the Alpes Maritimes in France
Amongst the most beautiful French villages is Gourdon which is perched on a hillside overlooking the Côte d'Azur at over 800 metres altitude. It is reached via a 10km climb from Châteauneuf de Grasse. On your way up the road, stop by the wayside when you first see the village to your right to take some photographs. This is the best place to get a good overall view of the village and its chateau.
Visiting Gourdon Village
The village entrance lies to your right after the parking lot. The village starts at the top of this cobblestoned lane. On both sides of the road you will find shops selling a variety of knick-knacks and souvenirs.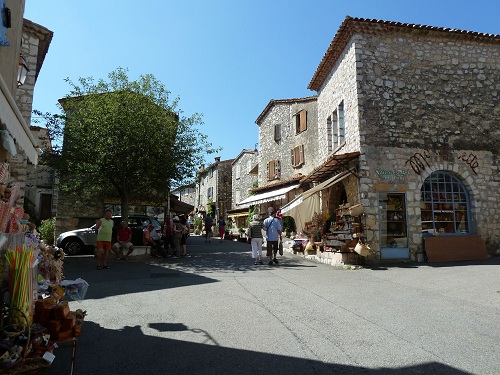 The main attraction of this village lies not in its commerce but rather in its restored houses, its chateau and especially in the view it offers over the Mediterranean.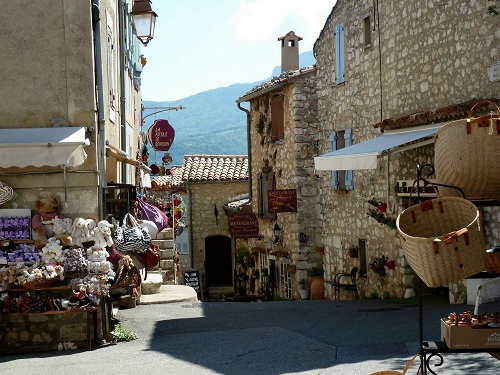 Stroll through the lanes and alleys of this lovely village and enjoy the peace and quiet away from the crowds. At the end of the main road you will find the village square with a tourist office and Post Office together in a single building (in fact the post office manager also doubles as tourist guide).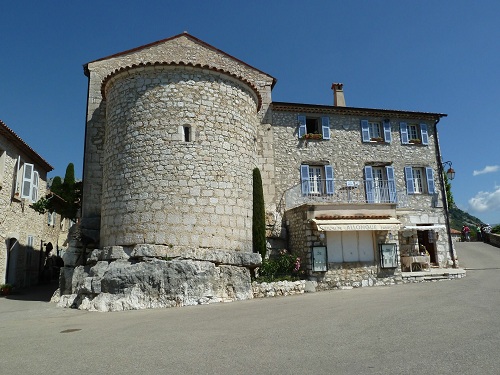 Several restaurants are also available for a drink or meals. Don't forget to look at the sky; this area is popular with paragliders due to the takeoff area close by on the Caussols plateau.
The best time to visit Gourdon
Gourdon village is so small that you can walk around the whole village in an hour. The best time to visit Gourdon is in the morning before the wind lifts. The view is generally clear and offers a magnificent panorama to the sea. Gourdon offers an advantage over many classified villages in that there is also a free parking lot at the village entrance.
Hiking from Gourdon
The best known hiking route from Gourdon is that leading to the Cavillore Plateau. It will take around 3 hours to complete a little over 5km. The walk to Haute Montel is a little easier than the former (2h30, 4.7km).
Accommodation close to Gourdon
There are no hotels at the small village of Gourdon, holiday accommodation here is just about nonexistent. We suggest you find seasonal rental accommodation close to Grasse or rent a cottage at Bar sur Loup, a small village at the foot of Gourdon, ideal for exploring the inland area close to the Gorges du Loup.